With so many places to sell your gold, it can be hard to know if you're getting as much out of your gold jewelry or dental gold as you should. Unless you come to Andre's Fine Jewelers, that is. Since 2005, when gold prices started their historic climb, Andre's Fine Jewelers has been the trusted source for selling your unwanted gold. We are committed to paying the most in the metro-Detroit area. Although gold market prices are set, many gold buyers pay you less so they can make more. Instead, our jewelers closely follow the gold market, daily, to ensure that we are offering our customers the most. Our reputation has given way to a large gold-buying volume, allowing us to pass on that value to you when you sell your gold to Andre's Fine Jewelers.

CURRENT PRICES PAID BY ANDRE'S FINE JEWELERS FOR SPECIFIC AMOUNTS OF GOLD
as of May 29th, 2020

30 Grams of 14K Gold = $840.00
58 Grams of 14K Gold = $1,624.00
93 Grams of 14K Gold = $2,604.00
30 grams of Scrap Gold
58 grams of Scrap Gold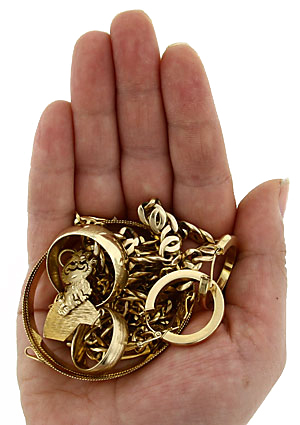 93 grams of Scrap Gold
Many people don't understand what any amount of gold in grams looks like so we have taken 3 typical amounts that customers bring to us to sell. We have placed the gold in an average size woman's hand.
We will update this page daily with the cash payout you would get for each of the 3 amounts of gold. If you are driving a long distance to get to us, this page will help you determine that it's worth the drive.
We also have a competitors pricing page that will show you how much more per gram we pay than our competitors. While we don't have room for each competitor, our chart will be very insightful. This along with our extra $20 for gas if you drive over 20 miles and sell over $1,000 to Andre's Fine Jewelers, will help assure you that we are definitely worth the drive.
When comparing prices, make sure you are comparing the actual cash payout to you. We have found that some of our competitors prices for gold, while still below ours, is for credit to spend in their store. The actual amount you get from them if you want cash only is less.
- AGAIN, WE ASK -
WORTH THE DRIVE?
The average amount paid per gram for 14k gold from our competitors that we polled on March 23rd, 2016 was $12.26/gram. On that same date Andre's was paying $18.00/gram. That is a difference of $5.74/gram that Andre's paid more on average than its competitors on that date.
Using that example if you had a few jewelry items totaling a weight of 35.5gram, you would have been shorted 5.74 X 35.5 = $203.77. In our opinion that would definitely be worth a drive.


We're a Short Drive From Most South Eastern Michigan Cities
Only 21 Minutes from Novi.

Only 26 Minutes from Ann Arbor.
For a more complete list of drive times, please go to our Maps page.


PLEASE CALL US WITH ANY QUESTIONS
DURING BUSINESS HOURS TOLL FREE AT
(877) 91-ANDRE
(877) 912-6373
Please E-mail Questions to us anytime by clicking the Contact Us link
or
Stop By our store located on Main Street in beautiful downtown Brighton Michigan to discuss Selling your Gold.
Turn your Gold into CASH Today!!!
COMPETITORS PRICING
All pricing from competitors was derived from either telephone inquiries or secret shopper gold sales by our staff. The Andre's price was the exact price we were paying for 14K gold at the same date and time.
PAST AND RECENT PRICE COMPARISONS 
Genesee Valley Gold & Silver
Competitor
14k / per Gram Price
12.98 / Gram**
See important information regarding internet advertisements
$18.99 / Gram*
See important information regarding Tappers "110% Price Match Guarantee" and how Andres price is still higher!
Andres
14k / per Gram Price

** ANDRES PROVES ONCE AGAIN THAT WE PAY THE HIGHEST PRICES FOR GOLD
Our secret shopper went to Solid Gold and Silver Jewelry on September 10th, 2014.
On that date, Solid Gold and Silver Jewelry was advertising that they paid $19.50 per gram for 14k gold with a similar ad as the one we have been running for several years.
We sold them over one ounce of 14k gold and our secret shopper got paid $12.98 per gram which is $6.52 per gram less than we were paying on that same day. It was also $6.52 less per gram than they advertised on that day.

*WHY ANDRE'S PRICE IS STILL BETTER THAN TAPPER'S 110% PRICE MATCH GUARANTEE.
QUICK SYNOPSIS:
Secret shopper from Andre's was sent to 2 Tapper's Gold locations on 5/25/12 and 5/29/12.
The initial price offered by Tappers for 14K gold on 5/25/12 was $18.99/gram which included their 30% special bonus (usually it's 25%). Andre's was paying $25.25/gram at the same time.
Our secret shopper asked if they matched prices and they told us they had a 110% price match guarantee. It turns out their price match guarantee is not what we or in our opinion anyone else would think it is.
Tapper's doesn't add 10% on to the higher competitor's price that they are matching but takes 10% of the difference between the two prices and adds that to competitor's price.
However, with a competitor like us that is so much higher than them, they have a maximum amount they will pay which is 90% of the spot gold price. This is what they told us they were offering us for the price match, but the price they said was 90% of the spot gold price was not, it was under 84% of the spot gold price.
We went to another location on 5/29/12 to make sure this was not an error, but we had the exact same experience.
In the end, Andre's price offered for 14K gold was higher than Tapper's even after their 30% special bonus and their 110% price match guarantee.

DETAILED ANALYSIS:
You would think that if Tapper's is offering a 110% price match guarantee that they would match our price and then pay 10% more. Well, after 2 secret shopper experiences, we have confirmed that this is not true. On 5/25/12 at 1:45pm, our secret shopper went into the Tapper's Gold Exchange in Fairlane Town Center. We gave them 7.0 grams of 14K gold where they offered us $18.99/gram after their special 30% bonus price (usually it's 25%). Andre's was paying $25.25/gram at that same time. In dollars Tapper's initial offer was $132.93, Andre's would have paid $176.75.
Different prices are not our issue with Tapper's. We have always offered a higher price for gold. The problem is with the price match guarantee. After giving them the gold and getting the price, our secret shopper asked if they matched other gold buyers. They said they had a 110% price match guarantee. We gave them a computer printout of the Andre's Fine Jewelers website where it showed the prices from that day. Initially, the representative said their policy worked like this: They take the difference between the competitor price and their price and take 10% of that which would then be added to the price. While we don't believe that this is really in the spirit of their claim, it's not that bad and would then make their price higher than ours by $0.62/gram. Their price of $18.99/gram and our price of $25.25/gram created a difference of $6.26/gram, 10% of that is $0.62/gram. If added to our price that would make their price $25.87/gram. The representative then said he needed to call his boss to verify exactly how to handle this. When he returned, he said their policy states that there is a maximum that they will pay which is 90% of the spot price of gold. They said that amount was $24.64/gram for a total of $172.48. The representative kept stating how good a deal this is to get 90% of the spot price of gold but in reality this was not 90% of the spot price of gold. The spot price of gold at that time had a high/low of $1,573.60/ounce and $1,570.07/ounce. 90% of the spot price of 14K gold in grams would actually be $26.50/gram, not the $24.64/gram we were paid. We believe their policy is written to state they will pay up to 90% so they didn't go against their policy but represented it incorrectly. We had our secret shopper go to the Great Lakes Crossing location on 5/29/12 at 2:45pm. We wanted to make sure this wasn't just a mistake by an employee. We had the exact same result regarding the 90% of spot price maximum. The only difference was we were paid $24.93/gram, a little higher price but still below ours.
In the end, Andre's price offered for 14K gold was still higher than Tapper's. We believe that anyone stating they pay 30% more for your gold or a 110% price match guarantee that really doesn't mean what they say is not the way we choose to do business. We feel a straight forward approach of publishing our prices everyday and then proving to you when you're here that we are giving you exactly that price for exactly the weight and karatage you have is the best way for anyone to sell their gold.